There are 40M vein punctures everyday worldwide, and approximately 25% fail to find and puncture a vein on the 1st attempt. The failure rate of vein punctures ranges from 10% to 40% with critically ill patients, where time is of the essence and vein punctures are challenging.
The Vein-Eye Carry provides FHD (full high definition) video of veins in all patients, even the most difficult. The video clearly shows the depth of the veins and the exact size and direction of the veins.
The Vein-Eye Carry weighs five (5) lbs. and is designed for use anywhere a vein has to be punctured. This includes home infusion therapy, the ambulance, the medical evacuation vehicle, and the blood testing laboratory.
Detecting the infiltration and extravasation of medicine, into surrounding tissue, is an advantage of the Vein-Eye Carry.
MSRP: $2,799 USD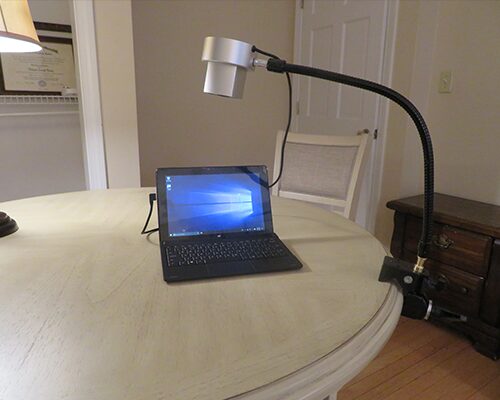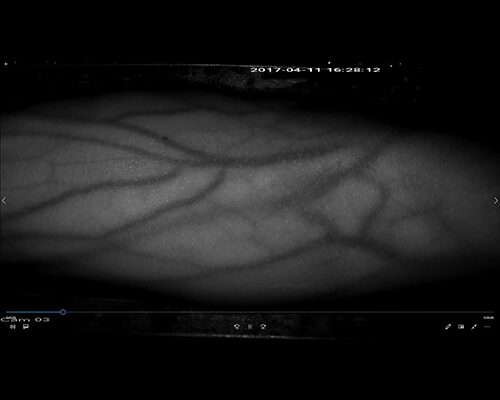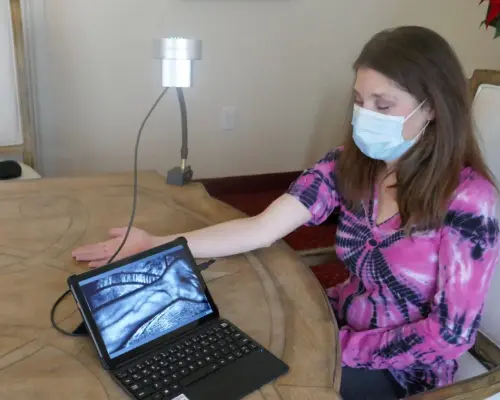 In January of 2023, Near Infrared Imaging donated a Vein-Eye Carry to the country of Ukraine. It is being used in surgical areas of a hospital treating wounded Ukrainian soldiers. The surgeons and doctors were able to quickly assemble the Vein-Eye Carry just by watching NII's website video. The healthcare workers in Ukraine consider the Vein-Eye Carry to be a valuable medical device and easy to use.
Near Infrared Imaging is pleased to announce that, effective June 23, 2023, the Vein-Eye Carry is now being used in medical training in Ukraine. Every young MD involved in "Anesthesiology and Intensive Care" at Ukraine's leading medical university is now a user of the Vein-Eye Carry.
According to Doctor Illya Chaikovsky, "This is the place where all anesthesiologists-resuscitators are trained. The young doctors and professors truly enjoy the Vein-Eye Carry." The Vein-Eye Carry features the Microsoft Surface GO 3 tablet.
Near Infrared Imaging invents, designs, and distributes medical solutions. We do not sell direct to the end user. We utilize high quality medical equipment distributors. Our corporate commitment is to provide the highest quality medical solutions at a price affordable to the worldwide community. We began in 2009 and we are proud of the work put into our 1st product.
The Vein-Eye Carry is our 3rd generation product and was built in conjunction with medical experts, blood drawing experts, and infusion experts. NII's patented vein illumination technology can also be used for non-contact vein recognition biometrics.
The Vein-Eye Carry is often referred to as a vein viewer, vein finder, or a vein locator. It is simply the best medical device for finding veins.
If you have a question, or if you are interested in distributing the Vein-Eye Carry, please contact us at [email protected]